Ann Clwyd accuses health board of confidentiality breach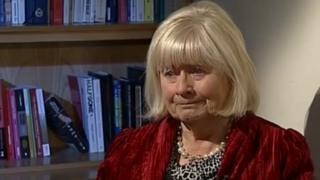 Labour MP Ann Clwyd has called for the chair and chief executive of a health board to resign claiming it released private details on the investigation into the death of her husband.
She claimed Owen Roberts spent 27 hours on a trolley at Cardiff's University Hospital of Wales before dying in 2012.
The Cardiff and Vale board confirmed information about her husband's case had been released in response to a Freedom of Information Act request.
It denied breaching confidentiality.
The health board says it has released details under the Freedom of Information Act which are statements "already in the public domain and the outcome of the investigation", which was completed some months ago.
'Outraged'
But Ms Clwyd said her wishes had been ignored and her confidentiality breached. She said that the chair, Maria Battle, and chief executive, Adam Cairns, should consider their positions.
She said: "I am outraged that the privacy of my late husband and myself have been violated by Maria Battle, and I believe that she is no longer fit for public office.
"This comes against the background of months of pressure from Ms Battle over this, during which I have made it clear that I did not want the initial report of the investigation made public."
She added: "The investigation arising from my complaint is still under way, and only recently I agreed with Ms Battle on the appointment of independent investigators to take the matter forward.
"It is therefore doubly inappropriate that my wishes have been ignored and confidentiality has been breached."
"This a shameful day for UHW and for NHS Wales, and I am truly dismayed by what has happened".
The MP said she would be making a complaint to the information commissioner and considering legal action.
Restricted response
A spokesman for Cardiff and Vale University Health Board said: "We have not released the report and it is not our intention to release the report in full or breach confidentiality.
"We have received a number of requests under Freedom of Information legislation to release the full report all of which we have refused based on legal advice.
"We have recently been asked, again under FoI legislation, to release a summary of the report. The health board has an obligation in law to consider this request and sought external legal advice on how to respond.
"Based on that expert advice the health board responded last week to the request restricting the response to those statements already in the public domain and the outcome of the investigation.
"We have since been asked by Ms Clwyd not to widely share that information and therefore it would be inappropriate to comment further until we have been able to meet with her solicitors in person."
BBC Wales understands a meeting between Ms Clwyd's lawyers and the board is being planned.