MP apologises for publishing joke about minister dying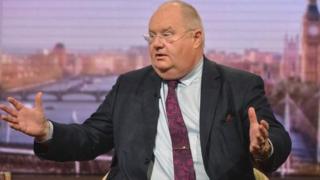 A senior Labour MP has apologised for posting a joke on Twitter made by former party leader Lord Kinnock about a cabinet minister dying.
The joke, about Eric Pickles, was in a private letter to shadow justice secretary Sadiq Khan.
Offering to sponsor Mr Khan in the London Marathon, Lord Kinnock suggested he persuade Mr Pickles to take part "so we have a helpful by-election".
Mr Khan later deleted the message and apologised to Mr Pickles.
Mr Khan posted the letter on Twitter to promote his fundraising efforts for the Dispossessed Fund charity, which tackles poverty and deprivation across London.
Conservative MP Priti Patel accused Mr Khan of "seriously flawed" judgment.
She told the Mail Online website: "To resort to such offensive, personal attacks is a reflection on how desperate the Labour Party are.
"Endorsing personal remarks about a cardiac arrest shows they are not fit to govern."
Deleting the offending comments from his Twitter timeline, Mr Khan posted the message: "Profuse apologies to @EricPickles - I have spoken to him to apologise & am sorry. Inappropriate tweet."