BBC makes 'elementary errors ' on devolution, says AM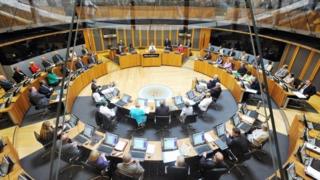 A Labour AM has accused BBC programmes of "elementary errors" on devolution 15 years after it took place.
Leighton Andrews was questioning BBC Trust chairman Lord Patten at an assembly inquiry into the Welsh media.
Lord Patten said the BBC had made "good progress" in coverage of devolved matters on its UK-wide services but there was still a "distance to go".
It follows criticism of BBC network news and Question Time by the assembly presiding officer on Tuesday.
In a speech at an event in Cardiff Bay marking BBC Cymru Wales' 50th anniversary, Dame Rosemary Butler said news programmes "continuously" referred to the Environment Agency during the recent floods, when Wales' environment body is Natural Resources Wales.
She said a recent edition of Question Time on BBC One had only one panellist from Wales and only discussed one issue that was "primarily Welsh".
'Hopeless'
Dame Rosemary also said the Welsh government and assembly were not represented on the programme and there "appeared to be widespread confusion" among panellists of the difference between the assembly and the Welsh government.
She said the BBC had "struggled" with the "fundamental policy differences" that devolution presented.
On Wednesday, at the assembly's communities committee's media inquiry, Mr Andrews told Lord Patten "you are still pretty hopeless a lot of the time on network", and said the BBC news website had initially described an England-only announcement on GCSEs as affecting England and Wales.
Mr Andrews said the BBC provided "in depth, well informed reports on a whole series of countries" but "when it comes to day-to-day coverage of what has now, for the last 15 years, been a core part of UK policy, there are are still elementary errors being made".
Lord Patten replied: "I don't wish to pretend that there aren't still problems. I would disagree, respectfully, about whether or not any progress has been made.
"I think that we have made progress but I still think there is a distance to go."
'Eroded'
Elan Clos Stephens, the BBC trustee for Wales, said that coverage of devolved matters had "improved" since a report by the political scientist Anthony King in 2008 drew attention to a perceived failure to explain the way that devolution impacted on how news stories affected audiences in different parts of the UK.
Challenged, later, about the way UK-wide programmes address Welsh issues, BBC director general Lord Hall said this was a concern that was "constantly" being reiterated to London-based staff.
He also told AMs the corporation should try to improve the way it reflects national life in Wales.
It followed a speech at the BBC Wales anniversary event in which he said English language television programmes in Wales from all broadcasters had "eroded" for around a decade.
He said it was right that BBC Wales had tried to protect news and politics programmes when budgets were cut but comedy, drama and entertainment should also be used to "reflect Welsh life".
In a statement, BBC Wales said Lord Hall had been referring to "some of the long-term challenges facing broadcasting in Wales".
It added: "These challenges have led to the prioritisation of news and current affairs output and we're doing all we can on an ongoing basis to minimise the impact of reduced budgets, finding new ways of commissioning programmes and constantly striving to get the best possible value for money.
"And it's important to remember that our efforts to date have been rewarded by our highest audiences in a decade."