Call for more language learning in primary schools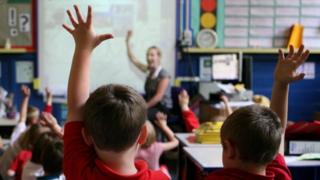 Primary schoolchildren in Wales should be taught in three languages, according to Plaid Cymru.
The party has launched a paper examining a European model where learning multiple languages from an early age is normal.
The paper also looks at ways to improve the teaching of the Welsh language.
Plaid education spokesperson Simon Thomas said employers have highlighted modern foreign languages as a skills gap.
"There is much evidence that shows a growing deficit in foreign language skills," said Mr Thomas.
"Employers tell us that while they count languages as an important skill, they cannot recruit enough staff with strong language skills.
"This is particularly relevant in a global economy where the demand for language skills is expanding.
"In most countries, learning at least two additional languages is compulsory for pupils."
But Mr Thomas added that improvements to teaching Welsh was also key.
He said: "At the moment, up to half of students who study Welsh as a second language do not consider themselves to be Welsh speakers at the end of the course.
"Introducing Welsh as part of the foundation phase is proven to have a beneficial effect."