Cameron 'does not care two hoots for Welsh NHS', says Jones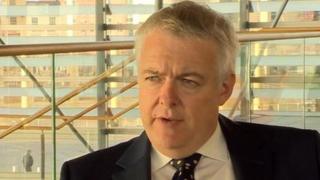 Prime Minister David Cameron "doesn't care two hoots about the NHS in Wales", claims First Minister Carwyn Jones.
On Wednesday, Mr Cameron said Welsh Labour's health record was "dreadful" and the NHS in Wales was "a shambles".
Mr Jones said the prime minister was "trying to divert attention from his own problems - it's an old trick".
Mr Jones also accused Whitehall of colluding with newspapers about a senior military figure voicing concern about hospital waiting times in Wales.
Responding to Mr Cameron's latest attack on the Welsh government, Mr Jones told BBC Radio Wales: "This is the thirty-first time that he's done this - it's becoming a bit of an obsession for him."
At question time in the House of Commons, Mr Cameron had said: "We have seen an 8% cut to the budget in Wales for the NHS.
"The last time A&E targets were met was 2009, the last time cancer treatment targets were met was 2008.
"Over a third of people miss out on access to diagnostic services within eight weeks.
"There is a truly dreadful record when it comes to Labour's NHS in Wales and you see a huge contrast now with the NHS in England - properly funded, well run, meeting the key targets - and the shambles there is in Wales."
The prime minister was responding to a question from the Vale of Glamorgan Tory MP Alun Cairns, who suggested the Welsh government could be undermining the operation of the armed forces because soldiers had to wait longer for treatment.
Speaking on the Jason Mohammad programme, the first minister said the Ministry of Defence was "running away" from the story that emerged on Sunday, about service personnel spending longer on waiting lists Wales than other parts of the UK.
It was based on an account of a meeting of health officials where the military's most senior medical officer raised the issue.
'No question'
The minutes of the meeting "were never agreed", the first minister said.
He said: "This came completely out of the blue. I can see what's happened. Some special adviser in London thought it was a good idea to give the story to some of the papers as a way to have a go at us."
The MoD responded to a freedom of information request to release documents "within hours", he said.
"Collusion - there's no question about that in my mind," said Mr Jones.
He claimed soldiers from Wales were being used for "political purposes".
He said: "I know it sounds quite dramatic to say that, but there is no doubt this was simply a way of using our veterans, people who have fought for this country, as a way of attacking one part of the UK for political ends."
He said Mr Cairns was "continuing with that".