Minister's resignation call over Rigby ballot slogan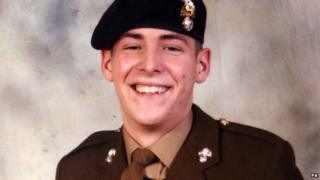 The head of the Electoral Commission is facing another resignation call for allowing the name of murdered soldier Lee Rigby to be used to promote a far-right political party.
Local Government Minister Lesley Griffiths said Jenny Watson should resign if poor management was to blame.
Britain First is using the description "Remember Lee Rigby" on ballot papers in Wales for May's European elections.
Ms Griffiths said this was "hurtful" for the family of Fusilier Rigby.
He was murdered as he returned to his barracks in south-east London on 22 May 2013.
On Monday the MP Geraint Davies and assembly member Simon Thomas also called for Ms Watson to resign.
Ms Watson has apologised for the error on the ballot papers, saying the description "should never have been permitted" but that it was too late for the papers to be changed in time for next month's poll.
On Tuesday, Ms Griffiths told AMs: "I think it's absolutely appalling that this tiny party should use the tragic events of a year ago in this way.
"I was made aware of it at the weekend... obviously this is a UK government issue - however, it is only Wales that is going to be affected.
"I can reassure members that I have already written to Greg Clark, the Cabinet Office minister responsible, putting forward my view that something should be done as soon as possible."
She added: "Obviously the chair of the Electoral Commission has admitted this should not have happened. The failure is with her organisation, and I think she has to consider whether this is down to a failure of corporate management, and obviously consider her position accordingly."
John Bercow - chair of the Speaker's Committee which oversees the work of the Electoral Commission - has said he "wishes to see an independent inquiry, conducted as a matter of urgency".
Fusilier Rigby, from Middleton, Greater Manchester, died of multiple cut and stab wounds.
Two men, Michael Adebolajo, 29, and Michael Adebowale, 22, were found guilty of his "barbaric" murder after a trial at the Old Bailey.
Adebolajo was given a whole-life term and Adebowale a minimum of 45 years in jail.