Finance Wales reports £2m increase in Welsh investment to £33m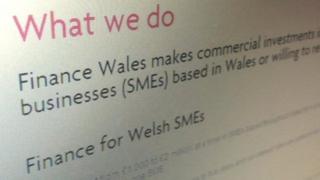 An investment bank set up by ministers to boost small firms in Wales has raised its spending by £2m to £33m.
Finance Wales reported a record £50m investment in 2013/14 including its arm which lends to firms in England.
Chairman Ian Johnson said its investments played "an important role" in supporting Welsh business.
The Welsh government is investigating the idea of setting up a development bank after criticism that Finance Wales was not doing enough for small firms.
Finance Wales was set up in 2001 to lend money to or buy shares in Welsh companies.
A report by business expert Prof Dylan Jones-Evans in November said the bank had focussed more on generating profits than developing the Welsh economy.
He said it was offering loans at higher rates of interest than it needed to under EU state guidelines and asked if it was essentially being run as a commercial fund manager.
In January, Economy Minister Edwina Hart told AMs she had asked Professor Jones-Evans to lead a further review to explore the concept of a development bank for Wales.
She added that there were "issues" with Finance Wales but that many firms were happy with its support.