Main parties' vote 'eroded' by UKIP rise in Wales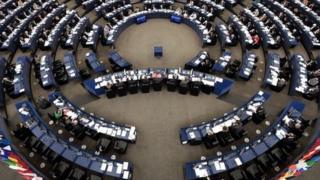 The more things change, the more they stay the same.
Labour, UKIP, the Tories and Plaid Cymru have all won one Welsh seat in the European elections, exactly the same as last time - but that's where the similarities with 2009 end.
Five years ago it was the Tories on top of the poll - a shock for Labour and a low point in the party's fortunes.
This time Labour is back on top, but only just; UKIP was only 0.6% behind.
The result has big implications for Welsh politics.
It is more and more difficult now to argue, as some have done, that Wales is somehow immune to the Eurosceptic trends seen across the border in England.
All the main parties have seen their vote eroded by the rise of UKIP.
Plaid Cymru, which spent the campaign attacking UKIP, will at least feel that its tactic has been vindicated in that it is clear its core voters turned out and made sure Jill Evans retained her seat.
UKIP topped the poll in Conwy, Denbighshire, Flintshire and Wrexham. There is little doubt that the North Wales region is the party's best chance of getting its first assembly member elected in the 2016 elections.
It was also first in Powys and in the Vale of Glamorgan. That will worry the Conservatives as the party defends Montgomeryshire and the Vale of Glamorgan in next year's General Election.
Spare a thought for the Liberal Democrats though who received just 4% of the vote, behind the Greens on 4.6%.
It is a long way back for the party with a General Election next year and, perhaps more worrying, the assembly election in 2016, which also uses an element of proportional representation to decide the results.