No further action over Tory AM Nick Ramsay's conduct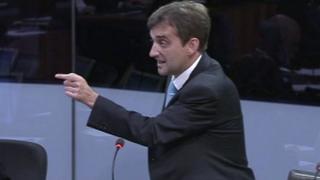 No further action will be taken after claims Monmouth AM Nick Ramsay was drunk in the Senedd chamber, an assembly spokesman has said.
A member of the public complained about his demeanour and delivery in a debate on mental health services last week.
He has denied being drunk, and deputy presiding officer David Melding made no intervention at the time.
An assembly spokesman said in a statement the circumstances had been "looked into thoroughly".
The statement said: "The presiding officers have looked into the circumstances thoroughly and have reached their conclusions.
"They confirmed that there were not grounds to call the member to order during the plenary session on 10 June.
"They will not be making any further statement about the matter."