Scotland referendum: what will it mean for Wales?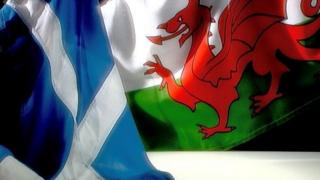 There is a great story from the early days of devolution, when the late Phil Williams was told by a friend he was involved in a radio programme with Jack McConnell.
"Who's McConnell?" he asked.
The urbane and intellectual Plaid AM had no idea the answer was "First Minister of Scotland".
One under-appreciated consequence of devolution is that Scotland and Wales know less about each other's politics than they did before.
Special prize if you can name more than three members of the Scottish cabinet; I doubt voters in Edinburgh or Glasgow have taken much note of Welsh pre-occupation with NHS waiting lists, the M4 relief road or the deliberations of the Silk Commission either.
All that is about to change.
The referendum on Scottish independence is placing Scotland's politics centre stage.
You will be hearing a lot more about the issues - which range from which currency an independent Scotland might use, to whether it can join the EU or not - before the vote on 18 September.
It is not an exaggeration to say it will be one of the biggest stories in Europe, if not the world, by the time polling day comes round.
But what will it mean for Wales?
Whatever the result of the referendum there will be far-reaching consequences for the rest of the UK, and whatever the politicians might say on the airwaves, the truth is no-one is quite sure what happens next. We really are in uncharted waters.
How would Wales fare in a UK without Scotland? What sort of relationship would it have with England and a UK government at Westminster?
Would there be more devolution and greater funding for the Welsh government? Or would there be a rowing back, a pro-Union reaction designed to stop Wales going the same way?
A no vote throws up its own problems.
Wales' First Minister, Carwyn Jones, thinks it is time for all the UK nations to sit down and draw up some sort of proper agreement about what exactly is devolved where, and why.
Politicians of all colours are starting to make similar noises - shouldn't we have a more federal system? Where does England fit in to all this? And - perhaps most important of all - whose taxes pay for all this, and how is the money distributed?
These are all questions we will try to answer over the next few weeks at BBC Wales.
We will hear from the main players, the politicians trying to make sense of it all - but we want to hear from you, too.
What future do you want to see for Wales?
What do you think will happen to Scotland? Do you want to see them leave? Tweet us @WalesPolitics with your views.
Whatever happens, you will be better informed about what our Celtic cousins are up to.