Ambulance service given three months to improve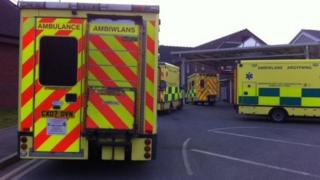 Health Minister Mark Drakeford has told AMs he has given the Welsh Ambulance Service three months to achieve "urgent improvements", after it again failed to meet response time targets.
In May, 54.1% of ambulances reached life-threatening incidents in eight minutes, down from 56.7% in April.
The target is 65% and ministers said the figures were "very disappointing".
The ambulance service said there had been more of the most serious calls and long handover delays at some hospitals.
Frustrated
A Welsh government spokesman said: "The Welsh Ambulance Service itself needs to demonstrate urgent improvement in its performance."
"Welsh government investment has up-graded the ambulance fleet.
"In this financial year, an extra £7.5m has been agreed, which will allow the recruitment of more than 100 frontline staff."
Later, in the assembly chamber, Shadow Health Minister Darren Millar accused Health Minister Mark Drakeford of presiding over the "worst ambulance performance in recent history".
A clearly frustrated Mr Drakeford said he had told the service's chair, chief executive and trade unions that he expected an "urgent improvement over the next three months".
He said: "I do not want to be in the position of coming in front of this assembly in September to find that the performance that we have seen in May, and I'm afraid has continued into June as well, I do not want to be here having to explain to you why the ambulance service has not been able to make the necessary improvement."
Mr Drakeford outlined how he expected ambulance figures to improve between now and September.
He said: "What I expect to see over that period is a recovery from where we have been in May and this month.
"I want to see performance improving month-on-month."
Responding earlier to the response time figures, the Welsh Ambulance Service Director of Service Delivery Mike Collins said: "An increase in the most serious type of emergency calls combined with lengthy handover delays at some hospitals across Wales has had an impact on our response times to incidents, and we would like to recognise the hard work, commitment and dedication of all our staff during this difficult time.
"We recognise that on occasion we are short of the eight-minute target for the most serious calls, but are working, and will continue to work, as hard as we can to get to patients as quickly as possible."
Mr Collins added that the ambulance service was "committed to improving ambulance services in Wales as outlined in our clinical transformation and modernisation programme, Working Together for Success".
'Decisive action'
Mr Millar said: "Despite the dedication of paramedics, patients in Wales have had to put up with almost two years of a substandard emergency service because of a lack of investment from Labour ministers and a failure to address logjams at A&E departments."
Plaid Cymru health spokeswoman Elin Jones said: "It is clear that the government has failed to deliver the improvements that are needed."
Welsh Liberal Democrat leader Kirsty Williams added: "We need clear, decisive action from the Welsh Labour government - and we need it now, before even more lives are put at risk under Welsh Labour's watch."