I can 'say no more' on M4 relief road, says Edwina Hart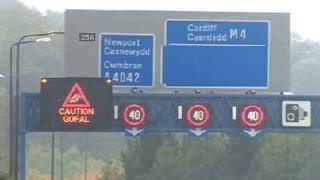 Economy Minister Edwina Hart has said she will not give more information to a committee scrutinising plans for an M4 motorway relief road around Newport.
Environment committee chair Alun Fred Jones believes an alternative option has not been properly considered.
Ms Hart said she cannot give further information as officials are yet to report on a public consultation's findings and she must remain impartial.
AMs on the committee expressed their disappointment at her decision.
Mr Jones wrote to Ms Hart last week asking her to respond to various concerns raised in his committee, including the scrutiny of alternative options, environmental impact, and cost.
'Most significant'
Plaid Cymru AM Llyr Gruffydd said he was 'disappointed, frustrated and angry' that the minister would not answer the questions.
"I think it's the most significant decision this government will make in its five year term and we're not being afforded the opportunity to properly scrutinise this," he said.
"The decision will happen during the summer and by then it will be too late.
"How can we do our job to hold this government to account if the minister declines an offer to come and speak to the committee or provide further information?"
Labour AM Julie James said she felt the minister was entitled to not come to the committee, but that she shared Mr Gruffydd's disappointment.
"I'm personally happy to express disappointment the information we requested couldn't have been provided," she said.
The environment committee is due to publish its report before the assembly's summer break in late July.
Ministers' decision on the M4 relief road is expected at some point this summer.