Business leaders want number of Welsh councils cut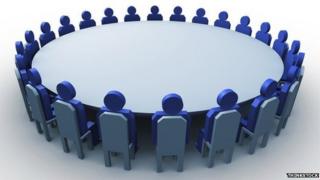 A "ridiculous" number of Welsh councils is damaging economic development, business leaders have told MPs.
The Institute of Directors (IoD) said the current 22 councils should be cut to just five.
Chairman Huw Roberts said fewer councillors could be counter-balanced by an increase in the number of AMs.
Councils said the IoD had "no say" on the shape of Welsh local government and its suggestion was "anti-democratic and poorly evidenced".
The Welsh government is expected to reveal plans for fewer councils soon - after an independent commission said numbers should be roughly halved.
Mr Roberts told the Welsh affairs committee at Westminster: "Looking at the size of Wales and 21st Century management style, we are absolutely convinced that five would be the right number.
"With five authorities you could have five top class sections looking at economic development.
"To have 22 scattered across Wales, which have to have 22 bosses, 22 deputies and 22 of all the rest of it, in no one place will there be enough strength or effectiveness so it is yet another area where the ridiculous number of local authorities in Wales is damaging."
Mr Roberts added: "We are not arguing for more elected members. We are arguing for better ones in the right place."
A Welsh Local Government Association spokesman called the IoD an "unelected body with no say whatsoever on the shape of local government in Wales" that had offered an "anti-democratic and poorly evidenced" proposal.
He said councils played a "a vitally important role" in economic development, including work on "Wales' emerging city regions" and "capital investment projects such as highways infrastructure and 21st century schools".
"More importantly, these vital functions are being delivered through a local democratic framework that offers the local decision making and local accountability that communities want when it comes to the issues and services that matter the most to them," the spokesman added.
'Frustrating'
The MPs are holding an inquiry into the promotion of Wales overseas.
Financier Michael Carrick, who is involved in the proposed Circuit of Wales race track project, near Ebbw Vale, said some UK government departments, including the Treasury, do not have Wales on the map.
He said he went to China with Welsh government officials who were unable to speak Chinese, and described the trip as "frustrating".
The Welsh government later rejected that criticism.
A spokesperson said all delegates were accompanied by representatives of its Chongqing office, all of whom are Chinese nationals speaking English and Mandarin.
The IoD wants a new "arms length" body to bring together Welsh government functions that promote Wales.