David Cameron's tribute to Welsh WW1 dead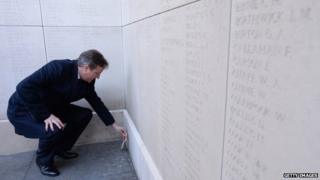 The prime minister has paid tribute in parliament to Welshmen who died during World War One.
David Cameron, who visited the Menin Gate war memorial in Belgium last week, told MPs it was "striking" how many Welshmen were commemorated there.
The name of Mr Cameron's great-great uncle Capt John Geddes, who fell in 1915, is inscribed at the memorial.
He was responding to a question from Plaid Cymru parliamentary leader Elfyn Llwyd.
Mr Llwyd said he would be attending the unveiling of a monument to the Welsh fallen in August.
Mr Cameron told MPs: "It's very striking when you stand underneath the Menin Gate in Ypres just how many Welshmen fell in that conflict."