David Cameron's 'constant public attacks' on Wales criticised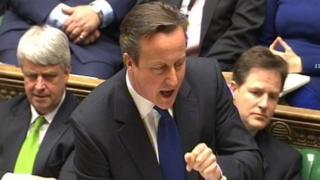 David Cameron has been accused of tarnishing Wales' reputation at home and abroad by making "constant public attacks" on it.
Shadow Welsh Secretary Owen Smith has written to the prime minister asking him to meet Welsh business leaders who he says are concerned by the attacks.
Mr Cameron regularly criticises the Labour-run Welsh government at his weekly Prime Minister's Questions.
The running of the NHS in Wales has often come under fire.
In his letter sent to Downing Street, and copied to the Welsh Secretary David Jones, the Labour MP for Pontyrpidd said: "You will know that 54% of British people will have seen or heard PMQs in the last 12 months and it is beamed to the USA and across the world.
"Yet viewers over the last four years will have noted that the only mentions you make of Wales are to undermine the nation, in an attempt at political point scoring."
One of Mr Cameron's strongest attacks came in in April.
He told the Welsh Conservative Party conference in Llangollen that Wales was witnessing a "national scandal" as Offa's Dyke "has become the line between life and death".
He said Welsh Labour was guilty of "appalling, inexcusable complacency".
And earlier that month he told MPs at PMQs the state of the NHS in Wales "is a scandal".
Labour have previously accused Mr Cameron of using Welsh NHS as a "political football" and said the Offa's Dyke comment was "pretty offensive".