Y gweinidog oedd byth yn 'anniddorol'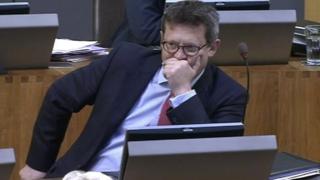 Talentog, carismataidd, diog, byrbwyll - mae'n anodd meddwl am ansoddair na ddefnyddiwyd i ddisgrifio Alun Davies ar hyd y blynyddoedd. Efallai bod 'anniddorol' yn un ohonyn nhw!
Ymddangosodd gyntaf ar y llwyfan gwleidyddol fel myfyriwr ifanc tanbaid. Aelod o Blaid Cymru oedd e bryd hynny ac fe safodd i'r blaid honno ym Mlaenau Gwent a Chwm Cynon. Cwm Cynon bryd hynny oedd gobaith gorau Plaid Cymru o gipio sedd seneddol yn y de diwydiannol. Yn deg neu'n annheg fe feirniadwyd Mr Davies gan rai fewn y blaid am beidio gwneud mwy o farc yno.
Beth bynnag oedd rhesymau Alun Davies am adael Plaid Cymru i ymuno â'r Blaid Lafur mae'n amlwg bod a wnelo personiaethau lawer a'r peth, gan gynnwys personoliaeth Mr Davies ei hun.
Dyw'r blaid Lafur ddim bob tro yn lle croesawgar iawn i'r rheiny sydd wedi bod yn aelodau o bleidiau eraill - ond roedd gallu Alun Davies i gyfathrebu'n effeithiol, yn enwedig yn y Gymraeg, yn ased pwysig i Lafur yn etholiad cynulliad 2007 pan gafodd ei ethol yn aelod rhestr dros y Gorllewin a'r Canolbarth.
Mae'n debyg bod ei wybodaeth ynghylch agweddau aelodau Plaid Cymru wedi bod yn werthfawr i Rhodri Morgan wrth iddo geisio achub croen Llafur trwy ffurfio clymblaid rhwng y ddwy blaid ar ôl yr etholiad hwnnw.
Fe enillodd Alun Davies edmygedd ei blaid trwy benderfynu sefyll ym Mlaenau Gwent yn etholiad 2011 - sedd oedd yn ymddangos yn gadarn yn nwylo'r aelod annibynnol Trish Law adeg ei benderfyniad. Fe gafodd ei wobrwyo trwy gael ei ddyrchafu i'r fainc flaen ond teg yw dweud ei fod wedi methu ag adeiladu cefnogaeth bersonol ymhlith aelodau'r grŵp Llafur yn y cyfnod ers hynny.
Am y rheswm hynny roedd sawl Aelod Cynulliad yn synnu braidd na chollodd Alun Davies ei swydd wythnos yn ôl ar ôl i Carwyn Jones farnu ei fod wedi torri'r cod gweinidogol trwy lobio dros gynllun i ddatblygu trac rasio yn ei etholaeth.
O fewn dyddiau roedd Alun Davies mewn trybini unwaith yn rhagor a'r tro hwn doedd 'na ddim maddeuant i fod. Dywed ei fod nawr am ganolbwyntio ar fuddiannau ei etholaeth. Ychydig ddyddiau yn ôl ymddangosodd erthygl mewn papur newydd dyddiol yn gofyn y castiwn yma. "Could Alun Davies be the next First Minister?" Erbyn hyn mae pawn yn gwybod yr ateb.