Welsh Environment Minister Alun Davies sacked: Opinion divider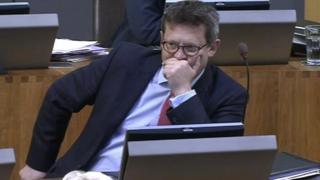 This is not the first time Alun Davies has had a brush with controversy. He has frequently divided opinion during his political career.
He first tried to get elected to Westminster in 1992, standing as a candidate for Plaid Cymru in Blaenau Gwent - the seat he now represents for Labour in the assembly.
Born in Tredegar, Mr Davies studied at Aberystwyth University and has worked for the environmental group WWF and for Oxfam.
He was a lobbyist and spokesman for the UK Atomic Energy Authority and for S4C, before setting up his own company.
At the 2005 general election he stood for Labour in Ceredigion.
During the campaign, police were called to an event at a Cardiff hotel when he got into a row with the actor Rhys Ifans.
He was elected to the assembly in 2007 as a regional member for the Mid and West Wales seat, later giving up that seat to reclaim Blaenau Gwent for Labour.
'Provoked anger'
Mr Davies supported Carwyn Jones for the Welsh Labour leadership and in March last year was promoted to the cabinet as minister for natural resources.
It is his conduct in that role which has provoked the anger of political opponents.
He lobbied the environment regulator Natural Resources Wales (NRW) - a body he is responsible for - in favour of plans to build a £280m motor racing track in his constituency.
Although he approached NRW in the summer of 2013, the opposition didn't hear about it until much later.
The first minister ordered his top civil servant to compile a report on Mr Davies when it became apparent that he had urged NRW to reconsider its initial reservations about the Circuit of Wales scheme.
The report published last week found Mr Davies had breached the ministerial code, but Mr Jones stuck by him and decided not to sack him.
Nevertheless, the opposition has tried to keep up the pressure and demanded he resign over the Circuit of Wales affair.
For the time being, his position looked safe, with the first minister defending his decision to keep Mr Jones in the cabinet.
The reason for his downfall has surprised opposition parties.
They have got the scalp they wanted, but not for reasons they anticipated.