Cardiff plans for new Welsh language centre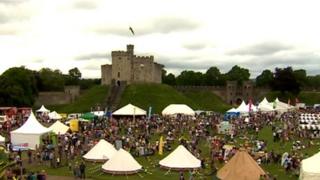 Cardiff is to gain a new Welsh language learning centre, the city council's leader has announced.
The decision to develop a new centre was revealed at this year's annual Tafwyl festival, which celebrates the Welsh language in the capital.
Cardiff leader Phil Bale said it represented a commitment to developing the Welsh language in the city.
First minister Carwyn Jones, who was at the opening of the festival on Saturday, said he welcomed the move.
"I am excited to hear about Cardiff council's idea to establish a Welsh language centre in the centre of Cardiff," he said.
Mr Bale added: "Welsh is an important part of life here and as a council we're determined to give everyone a chance to speak and experience it to the full.
"The plan to develop 'Language Space' in the heart of our capital represents an aspiration that is shared by many of our partners and would fulfil a major commitment in our strategy to promote Welsh in Cardiff."