Why new Welsh Secretary Stephen Crabb might be different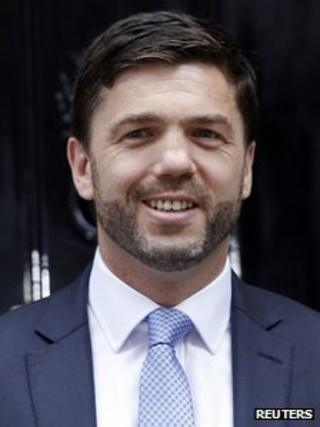 Stephen Crabb might be the first Conservative Cabinet minister to sport a beard for more than a century, but that may not be the only reason he stands out.
10 Downing Street is keenly aware that the UK government is often criticised for the background of some of its senior figures - many of whom attended public schools and Oxbridge colleges before entering parliament.
The Preseli Pembrokeshire MP's life story couldn't be more different.
One of three boys raised by their mother on a council estate in Haverfordwest, Mr Crabb has spoken in speeches of the "horrible decisions about what food and clothing was affordable", as he was growing up.
With an election coming up, few Tory MPs could counter the charge that they're a party for the well-off in quite the same way.
'War on Wales'
After attending Tasker Milward school in the town, he studied at Bristol University, gaining a first-class degree in politics.
He stood for the Preseli Pembrokeshire seat in 2001, eventually taking it in 2005 and being re-elected in 2010.
Married with two children, he lives near Haverfordwest.
A keen rugby player, he still turns out for the Commons and Lords RFC and captained the side against an assembly XV earlier this year, although they lost 27-21.
He'll be hoping it's the last time AMs get the better of him.
Although he's as keen a critic of the Welsh government's record as any Tory MP, he's less keen on some of the "war on Wales" rhetoric than some of his colleagues, fearing it strikes the wrong tone.
Expect to hear a lot more of the UK government's welfare plans and how he sees them benefitting Wales, and perhaps a little less about the Supreme Court and the ins and outs of the devolution settlement.
In short, Mr Crabb thinks Conservatism has worked for him.
His job now is to convince the Welsh public it can work for them too.