Welsh NHS: 'Lowest level' of critical emergency beds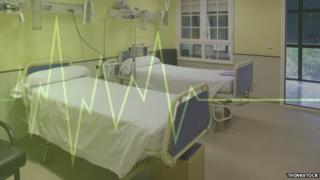 Hospitals in Wales have the lowest number of beds in Europe for patients with acute life-threatening illnesses.
Wales has 3.2 critical care beds per 100,000 people, compared to four in England and a European average of 11.
A report for Welsh government ministers also warns that inappropriate use of these critical care beds means some operations are cancelled, and patients sent to other wards when it is unsafe.
Ministers said more beds would be provided by better use of resources.
The report aims to give an overview of the country's NHS performance and highlight what health boards need to do to improve patient care.
Critical care beds, in intensive care or high-dependency units, are sometimes unavailable because patients can wait "many hours" to be discharged from them, the document says.
It also notes:
Beds are sometimes available but there are no staff to manage them.
An additional 73 beds are needed immediately, reaching a total of 295 more beds in ten years time, as demand for critical care is expected to increase.
The number of critical care beds has fallen by four since 1999, with most units routinely operating above the recommended 75% occupancy rate.
But the report advises that the problems are unlikely to be solved by providing more beds whilst existing beds are not being used efficiently.
Health Minister Mark Drakeford said: "We must make the best use of the resources we already have and action must be accelerated to tackle inefficient use of our critical care beds.
"All health boards in Wales should have a plan in place to do tackle delayed transfers of care and will be required to deliver a phased reduction."
'Continued failure'
But Welsh Liberal Democrat leader Kirsty Williams said she was "deeply concerned" that Mr Drakeford was not committing himself to increasing bed capacity.
"With demand for critical care set to rise year on year, Labour need to stop burying their heads in the sand and deal with an issue that has existed in the Welsh NHS for over a decade," she said.
Welsh Conservative leader Andrew RT Davies argued the NHS in Wales "simply doesn't have the resources required to cope safely with life-threatening illness" due to budget cuts imposed by Labour ministers.
"Patients who are critically ill require close monitoring from a team of specially-trained healthcare professionals and I am concerned that the continued failure by the Welsh government to address the lack of beds in Wales is damaging their ability to care for these patients," Mr Davies added.