No M4 relief road reversal says Edwina Hart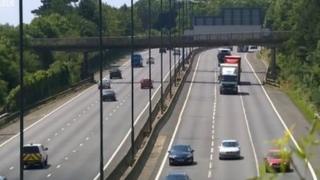 Wales' transport minister says she will not reverse her decision on an M4 relief road around Newport in the face of a legal challenge.
Edwina Hart said: "As far as I'm concerned we will be going ahead."
Friends of the Earth Cymru has said it is willing to take the decision to judicial review unless the consultation process is restarted.
The £1bn scheme is Welsh government's largest capital investment programme.
Last month Ms Hart announced that the selected route of the new motorway, known as the the 'black route', will run between Junctions 23 and 29.
It was one of three possible routes put forward in the Welsh government's consultation last September.
'Committed'
A so-called 'blue route' was put forward as a fourth option three months later by the transport expert Prof Stuart Cole.
In a letter sent to the Welsh government, solicitors acting on behalf of Friends of the Earth Cymru said the 'blue route' alternative had been ignored and raised doubts on the traffic forecasts used to justify the motorway.
The minister had previously said she fully expected a legal challenge but on Thursday added "as a government we are committed to the M4 decision that was made."
Speaking during a visit to Folly Farm in Pembrokeshire, Ms Hart said: "I think I've been talking about the M4 before I was elected to the assembly.
"Within the trade union movement they were concerned for years about the congestion and employers were about the congestion coming in to south Wales.
"I'm the minister that it's landed on the desk of, I'm the minister with the support of cabinet that's made the decision and as far as I'm concerned we will be going ahead."