Lord Rennard suspension lift criticised by Welsh activist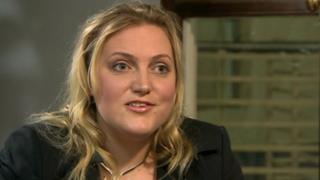 A senior Welsh Lib Dem said her party should be "ashamed" for lifting Lord Rennard's membership suspension.
Alison Goldsworthy, deputy chair of the party's federal executive, said last year she was one of a number of women who claimed they were harassed by the peer and called for him to be expelled.
He was suspended for bringing the party into disrepute after failing to apologise over the allegations.
But disciplinary action was dropped and the matter declared closed on Tuesday.
"Faced with the opportunity to take strong action, the Liberal Democrats have once more failed to act," Ms Goldsworthy told BBC Wales.
'Quite wrong'
"By failing to take action against Lord Rennard they have said that his behaviour, far more serious than I have ever made public, can go unpunished.
"That is quite wrong. It is an outcome of which the party should be ashamed."
In a statement, Lord Rennard said he was "pleased" and stressed that none of the allegations against him had been proven.
He said: "I remain a committed member of the Liberal Democrats and a strong believer in the principles of the party, as set out in the constitution, and based on the values that led me to join the Liberal Party in my teens."