Big proposals but no concrete plans for Wales or Scotland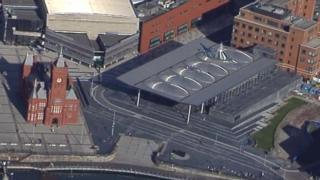 Both Wales and Scotland have heavyweight proposals for more devolution.
But arguably neither has a concrete plan for how or when it will happen.
Gordon Brown has tried to blunt the appeal of independence by proposing a timetable to give the Scottish Parliament more powers.
But Labour, the Liberal Democrats and the Conservatives have their own take on what those powers should be.
In Wales, we have the proposals of the Silk Commission which paved the way for devolving tax powers.
In March, the second Silk report recommended a new model of devolution and new powers for the assembly, including powers over the police.
It got a warm welcome and First Minister Carwyn Jones said he hopes it can be enacted by 2020/21.
But making it happen will require legislation in Westminster, so the political parties must decide which - if any - of the Silk recommendations to put in their general election manifestos.
'Uglier sister'
Mr Jones wants more Welsh devolution as part of a wider reform of the UK constitution after the Scottish referendum - a referendum he hopes will return a No vote, but which is now too close to call.
He appealed to Scots this week to help him build a new Union. In the noisy debate about Scotland's future, he's trying to get his voice heard. But who's listening?
"There's a great line in one of the books on New Labour which says that in Blair's Downing Street, Wales was seen as Scotland's smaller, uglier sister," says Prof Richard Wyn Jones, a political and constitutional expert at Cardiff University.
"It's not a complimentary thing to hear as a Welshman. But there's a certain sense that we just don't have the political clout."
One of the things First Minister Mr Jones would dearly like to change is the way the Welsh and Scottish governments are funded. The UK government uses something called the Barnett formula to decide how much to give them.
He cites the findings of the economist Gerry Holtham, who has advised the Welsh government and who published a landmark report on the subject in 2009.
It's a complicated system, but the lesson that assembly members learned from the Holtham report is a simple one: Barnett is kind to Scotland, and shortchanges Wales.
But Prof Holtham says any notion that Scotland's departure from the UK would result in more cash for Wales is wishful thinking.
"We're in the position that Wales still won't have any great bargaining power," he says.
"There's no suggestion that it could follow Scotland for example - and if it did it doesn't have oil to take away so I don't think that it's bargaining position is particularly strengthened.
"Therefore in that situation it's a bit hopeful to think you're going to get a large reform of Barnett which would involve big concessions to Wales in terms of cash transfer."
In fact, while Mr Jones is calling for funding reform, his Labour colleagues and fellow No campaigners in Scotland say Barnett must remain.
Prof Richard Wyn Jones says: "The Scottish Unionists have been very canny.
"If there's a No vote they've ensured that a system which is very beneficial to Scotland but actually niggardly, unfair arguably, to Wales will persist, will remain."
'Mess'
The Silk commission has gone on to recommend a new architecture for devolution, setting out what powers are and are not devolved. If control of the police is handed to Cardiff, other parts of the justice system could follow.
One of its members, the Plaid Cymru adviser Eurfyl ap Gwilym, says: "We set out a clear and cogent case for far more powers to be devolved to Wales and particularly to move to what's called the powers reserved model - which is the model used in Scotland and Northern Ireland - which is a much clearer cut arrangement for devolution, rather than the mess we've got in Wales."
Labour has always claimed credit for delivering devolution. Now it's offering more powers to Scotland. Wales' first minister says Wales must also be on a path towards more power, even if the destination is different to Scotland's.
There is a path available to Wales: the Silk Road. It might just be that the decision about whether Wales proceeds down that road - and how quickly - lies in the hands of Scottish voters.