Wales' cabinet reshuffle 'shell-shocked' Jeff Cuthbert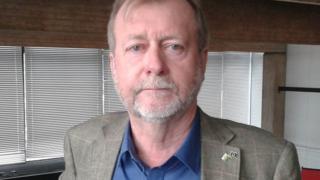 One of the ministers dropped from the Welsh cabinet has said he was "shell-shocked" to lose his job in Carwyn Jones's reshuffle.
Jeff Cuthbert, who was minister for communities and tackling poverty, has been replaced by Lesley Griffiths.
The Caerphilly AM told BBC Radio Wales he had secretly told Mr Jones he was likely to step down from the assembly at the next election.
He said it was "easy to clear my desk, very difficult to clear the mind".
The surprise reshuffle brought Leighton Andrews back into government 15 months after he resigned as education minister, in a new role as Public Services Minister aimed at driving local government reforms.
Mr Cuthbert said he was "a little shell-shocked yesterday but these things, you don't get much notice of them.
"I didn't know exactly what was going to be said, but I knew that Carwyn was obviously thinking of the team that he wanted to go into the next election and beyond.
"I had already told him - and him alone - that I intended, or was very likely, to step down because I'll be almost 68 at the next election and wasn't sure I wanted to commit until I was almost 73. So it wasn't that surprising."
'Robust character'
On being asked if he felt his any of his work as a cabinet minister had been left unfinished, Mr Cuthbert said it was "easy enough for me to clear my desk, very difficult to clear your mind".
He said he had confidence that the first minister had picked the right team to take Labour into the next election and beyond, pointing out that he had served as a junior minister under the returning Mr Andrews.
"He's a robust character certainly and he'll want to get things done sooner rather than later," he said.
John Griffiths was also dropped from the cabinet, with his culture and sport brief to be handled by Ken Skates as a deputy minister.
Writing on Twitter, Mr Griffiths said: "It's been a privilege to have been able to serve the people of Wales in various roles in Labour governments over the years."
He added he was "Proud to represent the people of Newport East, and will continue to work hard for them in the Assembly."
---
Analysis on the reshuffle by political correspondent Daniel Davies
What's important to Carwyn Jones is completing his programme and the long list of tasks he's set himself.
He's clearly decided he's more likely to achieve them with Leighton Andrews in the cabinet. One senior source in the Welsh government described Mr Andrews to us as a "getting things done-er."
In other words, he's a doer, he's combative, he's ambitious for himself and the government. He doesn't suffer fools gladly and doesn't mind putting noses out of joint if it achieves something.
Carwyn Jones's slogan is "Delivery" and when you're heading for an election in just over 18 months time then you look at Leighton Andrews and think, am I more likely to go into that election and be able to say I delivered with him in the cabinet or with him on the back benches?
---