Wales awaits result of Scottish independence referendum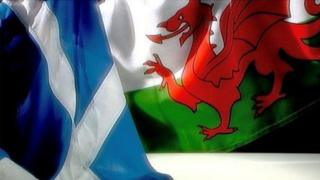 Politicians in Wales are awaiting the result of the Scottish referendum on independence as voting gets under way.
Polling stations are open from 07:00 to 22:00 BST on Thursday, with 4,285,323 people - 97% of the electorate - registered to vote.
During the campaign there has been much debate about the likely impact on Wales of the result, whichever way it goes.
Voters will answer "Yes" or "No" to the referendum question: "Should Scotland be an independent country?"
Counting will take place through the night, with the result expected to be declared on Friday morning.
Follow reaction to the results as they come in on the BBC Wales News live page from 22:30 BST.