Tory MP Guto Bebb apologises over bullying website claim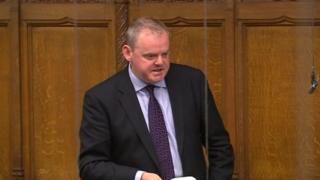 An MP has apologised for suggesting former Welsh Secretary David Jones's business partner was involved in writing an anonymous blog.
Earlier this month, Aberconwy MP Guto Bebb told the House of Commons that Dylan Moore was behind a blog that had "harassed, abused and bullied" people.
On Friday, Mr Bebb said he had since met Mr Moore and was satisfied he had not been involved in the website.
Mr Moore said he was pleased and had accepted the apology.
Mr Bebb said he would make a Commons statement to correct the record.
He had told MPs that a private investigator had traced the "Thoughts of Oscar" blog to a home in Deganwy and the office of David Jones Solicitors in Llandudno.
Mr Moore responded to that statement by challenging him to repeat the allegations outside Parliament, without the legal protection of parliamentary privilege.
In a statement on Friday, Mr Bebb stated: "Since the debate, I have met Mr Moore and, as a result of lengthy and detailed discussions, I am satisfied that, contrary to the conclusions reached by the private investigator and referenced in the House by myself, Mr Moore was neither the author of the blog nor otherwise involved in it."
'Serious matter'
In a separate statement, Mr Moore said: "The assertions outlined by Guto Bebb MP have now been acknowledged by him to be untrue.
"Needless to say, I regarded them as a serious matter given that I am both a constituent of his and a professional person based in his constituency.
"The implications in terms of my personal safety and reputational damage were immense."
He said he was pleased that Mr Bebb had acknowledged his mistake, adding that he did not intend to take any legal action against the MP.
"However, it is a great shame Mr Bebb did not discuss the allegations with me despite my having called him repeatedly before making his address to the house," he said.
"Many people reading this will think 'politicians are all the same'. However, I am not a politician. I am an ordinary member of the public."