Welsh Conservatives promise 'tax revolution'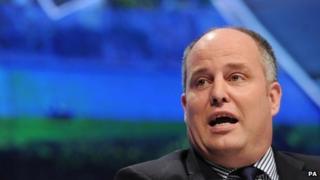 Welsh Conservatives say they would use new tax-varying powers to introduce a "low-tax revolution" in Wales.
There are plans to hand powers over taxes, including stamp duty, to Welsh ministers.
Assembly party leader Andrew RT Davies says they would use the powers to cut income taxes and abolish stamp duty on homes selling for less than £250,000.
On the eve of the party conference in Birmingham he said it was a chance to create an "entrepreneurial culture".
Mr Davies was setting out his party's tax policies, although a referendum will be needed before income tax collection is also devolved.
Writing in the Western Mail, he says: "Low tax economies are more competitive, more attractive to job creators and are where small businesses are most likely to prosper.
'Shot in the arm'
"We need an unrelenting focus on growing a Welsh economy that can sustain itself, that isn't too reliant on foreign investment and doesn't automatically reach for the begging bowl.
"With the devolution of stamp duty, landfill tax, business rates and perhaps also income tax, we have the opportunity to create an entrepreneurial culture in Wales and with it the prospect of jobs and economic growth."
The Tories had been "first off the starting block" with their own Welsh tax policies, he said.
He pledged to:
Abolish stamp duty on all house purchases up to £250,000 "making it easier for people to get on the housing ladder".
Cut income tax "for hardworking people to encourage entrepreneurship and business start-ups."
Abolish business rates for all small businesses with a rateable value up to £12,000, with tapered relief up to £15,000.
Mr Davies added: "These measures would be a shot in the arm for the Welsh economy and send a clear message that in this union of four nations, Wales is the place to do business."
The Conservatives' annual conference begins in Birmingham on Sunday.