Nursery cuts are considered again in Rhondda Cynon Taf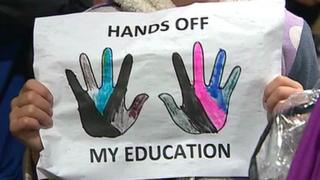 Nursery provision, school music lessons, street cleaning and parks services face being cut by Rhondda Cynon Taf council.
The council's cabinet meets next week to consider ways of bridging a £30m funding gap in its budget next year.
On Tuesday, ministers announced the Welsh local government budget will fall by more than £190m (4.1%) next year.
In May, parents won a legal battle over the RCT's previous plan to raise the age for full-time education to four.
Such a change would have been in line with other councils in Wales, but a High Court judge ruled RCT had breached its statutory duties and failed to adequately consider childcare issues.
The council subsequently ruled out making changes to nursery admission arrangements until at least September 2015.
'Great concern'
On Wednesday, council leader Andrew Morgan said the authority had "no alternative" other than to consider cuts across a wide range of services.
On nursery provision, Mr Morgan said: "I fully accept this will cause a great amount of public concern, and as a new leader, if I had a choice this is not something I would want us to do.
"The reality of the situation means we have no alternative other than to consider consulting on this area.
"If cabinet is minded next week to reconsider this matter, I will want us to engage much more effectively to explain the rationale and need for this decision than the council did previously.
"I will want to ensure that lessons are learned from how we managed this matter previously," he added.
The Welsh Local Government Association has warned of a risk of a "comprehensive failure" of essential local authority services across Wales.