Ex-environment ministers attack M4 relief road plans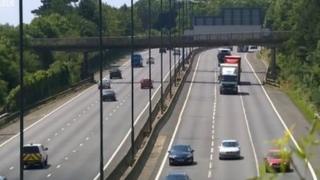 Two former environment ministers have criticised Welsh government plans for an M4 relief road south of Newport.
Labour AMs Alun Davies and John Griffiths spoke out during an assembly debate tabled by Plaid Cymru.
Mr Davies said the Welsh government had taken "the wrong decision" that did not reflect Labour Party "commitments" and called for the plans to be re-examined.
But Transport Minister Edwina Hart said "careful consideration" had been given to "all the available options".
As natural resources minister Mr Davies was responsible for environment policy until he was sacked in July.
He said: "I'm not an instinctive anti-roads person or somebody who believes that roads should not be built.
"However, I do believe that we need to take these decisions after due consideration and openly and as a consequence of debates and discussions that take place both within individual parties, but also within this place and within the committees of this place."
Mr Davies said the decision "does not in my view reflect the commitments we've made as a Labour Party".
He said the Welsh government itself had described the Gwent levels wetlands as an essential migration route for wildlife.
'Incredibly damaging'
"If we are going to drive a six-lane motorway across that historically important - internationally important area - then we must be absolutely clear that we have the knowledge and information and that we are taking the right decision. I am clear on none of those."
Mr Davies welcomed the announcement on Tuesday - made as part of Labour's budget deal with the Liberal Democrats - that work would not start on the new stretch of motorway around Newport until after the next assembly elections in 2016.
Mr Griffiths, who represents Newport East, warned of the "incredibly damaging" environmental impact of ministers' proposals, but also expressed reservations about an alternative route favoured by some AMs.
Mr Griffiths said that the Welsh government needed to look afresh at public transport solutions, particularly the creation of a South Wales Metro.
Other Labour AMs have previously voiced similar reservations about the M4 plans.
But Mrs Hart told AMs: "Careful consideration was given to all the available options, but without the M4 we would not have had borrowing powers."
She was referring to UK ministers' decision to give the Welsh government limited borrowing powers to finance major projects.