'Helpful' valleys rail upgrade discussion, says Edwina Hart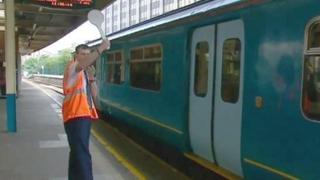 Welsh Economy and Transport Minister Edwina Hart has said she has had an "open and helpful" dialogue with the UK government over rail electrification.
UK and Welsh ministers had been arguing over who should pay to electrify the valleys rail network since March.
Ms Hart told AMs she has had "very good discussions" with Transport Secretary Patrick McLoughlin.
She said she was now confident issues over how to finance the commuter lines in and out of Cardiff can be resolved.
Ms Hart was addressing the assembly's Enterprise and Business Committee.
A month ago, Welsh Secretary Stephen Crabb said he hoped agreement could be reached in what he called "a short number of months".
Asked, what lessons had been learnt from the dispute with the UK government, Mrs Hart said: "I think what we've learnt is that you keep your friends close but sometimes others closer".