Food hygiene rating plan for takeaway orders in Wales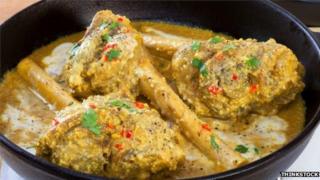 Customers ordering takeaway food over the phone would be encouraged to ask for the outlet's food hygiene ratings, if new rules get the go-ahead.
Restaurants, takeaways and supermarkets currently have to prominently display ratings stickers inside their premises - from 0 (lowest) to 5 (highest).
Now the Welsh government wants to improve awareness of the ratings.
The proposed new rules would also force ratings information to be printed on takeaway menus and leaflets.
In November 2013, Wales became the first part of the UK to ensure all food outlets display food hygiene ratings, usually on their doors or windows.
Inspectors look at how premises prepare, cook and store food, the condition of their premises and food safety management.
The Welsh government says the ratings are already helping to improve standards.
More than 50% of food businesses in Wales have achieved a 5 rating, which means very good, while the number of food businesses with a less than satisfactory rating is also decreasing.
Sharing views
Ministers now want businesses to inform people how to find out about their ratings by printing the Food Standards Agency website on promotion leaflets and menus.
People ordering food over the phone would also be encouraged to ask for a food rating.
The rules would also apply to cafes and restaurants advertising their food in flyers and leaflets.
If given the go-ahead the rules could come into force in February.
Health Minister Mark Drakeford said: "I don't want to overly burden businesses with regulations and I would encourage interested parties to share their views about these proposals.
"I am committed to making this legislation workable for consumers, food businesses and enforcers alike."