Plaid Cymru criticises general election TV debates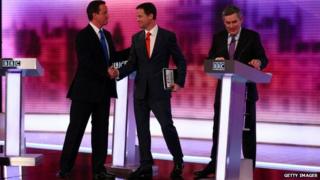 Plaid Cymru has criticised plans for TV debates before the general election involving the Conservative, Labour, Liberal Democrat and UKIP leaders.
Three debates are proposed by the BBC, ITV, Sky and Channel 4.
Plaid said the "age of two-party politics is over" and called on the broadcasters to include them in a national debate.
Meanwhile, BBC Wales has written to the main political parties in Wales about also setting up separate debates here.
BBC Wales director Rhodri Talfan Davies has joined the directors of BBC Scotland and Northern Ireland in proposing debates during the general election campaign which would be screened in each nation.
The UK TV debates being proposed by broadcasters would include one between the Conservative and Labour leaders, one with them and the Liberal Democrat leader, and the third bringing together all three of those party's leaders and the UKIP leader.
'Immediate steps'
Plaid said they would be holding internal talks about how best to lobby the UK broadcasters on their party's inclusion in the national TV debates.
Leader Leanne Wood said the debates "should be a true reflection of the choice facing people in all corners of the UK at the general election".
"Broadcasters have shown themselves to be out of touch by clinging on to the notion that there is no alternative to the tired Westminster elite," she said.
"Plaid Cymru will be going into the general election with ambitious policies to improve public services and strengthen the Welsh economy.
"The people of Wales deserve nothing less than to hear what all parties have to offer them and we will be taking immediate steps to ensure that this happens."
In response, Glyn Davies, the Conservative MP for Montgomeryshire, questioned the move on social media, while both the SNP and the Green party have also criticised the proposals for the debates.