Leaders call for agreement on extra funding for Wales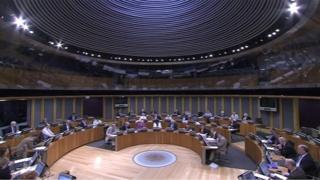 The four party leaders in the Welsh assembly have called for the Welsh and UK governments to agree by January how much extra funding Wales needs.
In a statement, they call for an up-to-date assessment of whether Wales loses out under the current funding system.
The Welsh government has said it is under-funded by the UK Treasury by £300m a year.
The joint motion from the Welsh party leaders follows talks on the future for devolution.
They met last week in the wake of the Scottish referendum vote to see if they could thrash out a joint position.
At the core of the arguments has been the Barnett Formula, which sets out how UK Treasury money is shared between Scotland, Northern Ireland and Wales.
But there is no all-party consensus on the accuracy of figures for how much Wales might be underfunded.
'More ambitious'
Tuesday's joint statement also calls for the devolution of further tax-varying powers.
It also backs a new system intended to make it clearer what powers are devolved to the assembly.
Known as a "reserved powers model", supporters say it would be easier to understand and clear up confusion about which responsibilities are devolved to Wales and which remain at Westminster.
Analysis by political correspondent Daniel Davies
There has been a lot of talk about what next for Wales in the wake of Scotland's independence referendum.
Those who hoped to see further devolution to the assembly were keen to build a consensus. Their fear: that Wales would be left behind in the clamour for constitutional reform.
Today we saw the outcome of talks between the leaders of Labour, Plaid Cymru, the Conservatives and Liberal Democrats. All AMs will be asked to endorse their agreement in a vote.
It's a detailed shopping list.
Among other things, it calls for further tax-raising powers to be devolved, beyond those already in the pipeline. The motion also calls for an agreement with the UK government by January 2015 on fair funding.
The Wales Bill, going through Parliament now, requires a referendum before the assembly gains partial control over income tax. Today's motion says that if a decision is taken to hold that referendum it should "reflect the view of the people of Wales". The phrase is open to interpretation and has already provoked some debate.
Welsh First Minister Carwyn Jones said the four parties were calling for an "ambitious set of reforms" that would have "very wide public support".
"I trust that the UK government will listen to this very clear statement from Wales and will respond accordingly, starting with talks on a fairer funding agreement for Wales."
Sorting out the funding issue, he said, would "unlock the door to further and more ambitious financial reforms".
Welsh Conservative leader Andrew RT Davies welcomed co-operation between all political parties saying "a lasting settlement that is driven by the people of Wales and which benefits communities right across our country is absolutely essential".
'Meaty decisions'
Plaid Cymru leader Leanne Wood insisted the agreement "must lead to Wales taking its place as an equal nation, with self-government that will allow its people to prosper and its communities to flourish".
The leader of the Welsh Liberal Democrats, Kirsty Williams, said: "It is critical that we make sure Wales is not marginalised whilst the UK's political structures evolve and change."
Responding to the announcement of the joint motion, on behalf of UK ministers, a Wales Office spokesman said: "The prime minister has started a process led by William Hague to look at all these issues.
"There are meaty decisions to make and so it's so important that we allow the William Hague committee the time it needs to get it right but it is also why the secretary of state has begun a process to establish the views of the Welsh parties to feed into the debate."