Health board spending 'running amok', claims council leader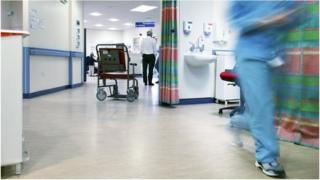 A council leader has accused health boards in Wales of "running amok" and overspending "year-on-year".
Ceredigion council leader Ellen ap Gwynn called for the public spending watchdog to look "in detail" at how the seven boards spend their money.
She said it was "disgraceful" that councils had lost almost £200m with "little notice" to "bail out health boards" in the Welsh government budget.
Ministers denied the NHS had gained funding at the expense of councils.
Ms ap Gwynn urged the assembly's Finance Committee to send "a clear message" to the Wales Audit Office (WAO) about the need for an investigation into how boards manage their finances.
This week, Auditor General Huw Vaughan Thomas called for an urgent and far-reaching debate on how much the Welsh government could afford to spend on the NHS.
Last month, the Welsh government's draft budget for 2015-16 allocated an extra £425m to the health service over the next two years.
But £192m was cut from Welsh ministers' total local government budget for 2015-16, and they announced last week that the money directly paid to the 22 local authorities in their block grants would fall by £146m.
On Thursday, Ms ap Gwynn warned that financial pressures meant that Ceredigion could "cease to provide buildings" for libraries in the future and offer a fully mobile library service, which could also offer other council services.
The Welsh Local Government Association (WLGA) has said services will disappear as a result of cuts to council budgets.
Ms ap Gwynn said that Ceredigion was aiming to make savings by restructuring management rather than cutting services.
A Welsh government spokesman said UK government austerity measures and "rising demands and pressures" meant ministers faced "tough choices".
All areas of spending had been "carefully monitored" to ensure "we make the best use of the available resources", the spokesman said.
"There have been no reductions to local government core funding through the Revenue Support Grant as a result of the in year allocation to health," he added.