Andrew RT Davies opposes devolving police to Wales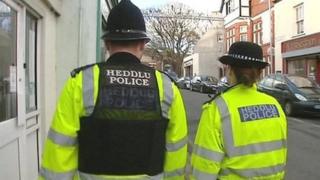 Policing and justice should not be devolved, the Welsh Conservative leader has said.
Speaking ahead of a Tory policy group this weekend, Andrew RT Davies told BBC Radio Wales there was "no evidence" to persuade him it would benefit Wales.
A report for the UK government earlier this year recommended police and youth justice should be transferred to Wales.
The Welsh Labour government, Plaid Cymru and the Liberal Democrats back the recommendations.
But Mr Davies said: "I just don't think policing and criminal justice need to be devolved at this present moment in time - the case has not been made.
"This is a submission we made to the Silk Commission some 18 months ago, so it's a consistent line we've put forward.
"When you look at policing, and in particular crime... we're far better off being part of a bigger organisation that the England and Wales support system to the various forces around England and Wales offers policing, and the criminal justice system that we have here that offers such good service to the people of Wales."
Mr Davies believes there are key unanswered questions over the issue.
On Saturday, he is due to tell the party's south Wales policy forum: "With crime currently falling, the Welsh government and other parties need to say how they can maintain this encouraging work."
'Crucial'
Mr Davies wants more information about the Welsh government's operational priorities, if it took control of the £1.2bn policing budget.
He also suggests that some Welsh Labour MPs disagree with colleagues in Cardiff Bay, and do not support devolving the powers.
He is expected to say: "It is a sad fact that whilst devolution has offered an authentic Welsh voice in policy making, Welsh Labour's management of health, education and economic policy has seen too many areas fall behind.
"It is important therefore that before we, as Welsh Conservatives, support any changes to our police force, we get some answers on these crucial issues.
"On that basis, I do not currently support devolution of policing."
In its response to the Silk Commission's report in March, the UK government said the recommendations on policing and justice should be considered in the next Parliament, and party views should be included in manifestos for May's general election.
Responding to Mr Davies's position on Friday, a Welsh Labour spokesman said: "The Tories in Wales are a busted flush.
"They attack us on the economy in the same week that youth unemployment is again shown to be falling faster in Wales than elsewhere in the UK.
"They disparage our NHS in the same month we invest nearly half a billion extra.
"We are delivering on the bread and butter issues, whilst the Tories in Westminster denigrate disabled workers. That is the difference between us."