Tata Steel continues to invest in south Wales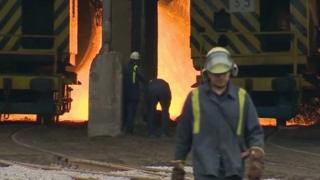 Tata Steel will continue to invest in its main south Wales site, the UK's business minister has insisted.
Matthew Hancock's comments follow Tata's announcement on plans to sell its 'Long Products' division to the Klesch Group.
The steel division employs about 6,500 at several sites in England and Scotland.
Mr Hancock said: "They [Tata] have committed to invest further in their Port Talbot strip products business."
The Long Products division manufactures transport rails and steel sections for use in construction, heavy industry and excavation, and accounts for about a third of Tata Steel's UK employees.
But Tata Steel has insisted that its strip steel and speciality operations in south Wales and in south Yorkshire are not up for discussion, including its Port Talbot facility.
The plant there has seen large investments in recent years, including £185m to completely rebuild No 4 furnace.
The Klesch Group, which is based in Geneva, is best known in Wales for its recent deal to take over the Murco oil refinery at Milford Haven in Pembrokeshire.
'Significant problem'
But its involvement with Tata Steel prompted an outcry from unions who said there had been no consultation with the workforce.
Mr Hancock said: "I can understand that any announcement of this sort brings uncertainty and we will do all we reasonably can to support the companies in ensuring a competitive future for the business."
Cardiff South and Penarth MP Stephen Doughty said that concerns around Tata were shared by other steel companies, including south Wales-based Celsa Steel UK.
He added: "There is a significant problem particularly with dumping from countries outside the European Union, particularly Turkey and China, in certain markets and that's causing huge challenges for those companies, as well as the problems we've heard about energy."
The minister agreed to meet with Mr Doughty, Celsa and the Welsh Secretary Stephen Crabb to discuss what action could be taken on that issue.