Health Minister Mark Drakeford: 'Share money from economic growth'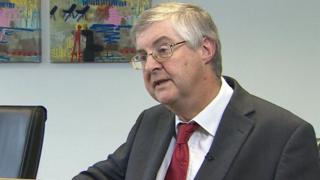 Public services need their "fair share" of money from economic growth if they are to continue to be affordable in the future, the health minister says.
Mark Drakeford also said the UK funding settlement for Wales had to be changed.
It comes after the public spending watchdog called for a debate about how much the Welsh government can afford to spend on health.
The Wales Audit Office said ministers gave the NHS an extra £200m in 2013-14.
Auditor General Huw Vaughan Thomas warned about the impact on other services if the NHS continues to take such a big slice of the budget.
Speaking to BBC Wales' Sunday Politics show, Mr Drakeford repeated the Welsh government's call for "fair funding" from Westminster.
'Ability to invest'
He said that the current Barnett Formula, which calculates how much money the Treasury gives to Wales, Scotland and Northern Ireland, left Wales short changed.
"If we had the £300m a year that we are short changed by the current arrangements, then the Welsh government's budget and our ability to invest in public services would be very different." he said.
"But most of all, we need a government in Westminster that as the economy is beginning to grow believe the public services should have a share in that growth.
He said if Wales received a "fair share" of cash generated by economic growth then "the health service goes on being affordable for the future".
Mr Drakeford also called for "mature" cross-party discussions about changes to the health service.
He said he had approached the Welsh Liberal Democrats about their proposal for an all-party commission on the NHS
'On a journey'
He said he had invited Welsh Lib Dem leader Kirsty Williams to meet him to talk about the commission's remit and what sort of difference it might make.
He added that he wanted to see whether "it is possible to share and construct some cross-party way of having a mature discussion about the changing nature of health services in Wales".
The health minister said that local health boards were preparing three-year plans which show how services need to change.
"We need to bring the public with us on that journey," he said.
"We need politicians who are mature enough to present the case to the public why, if we want the health service to be go on doing the things that are so value by the public, it will have to do it in different ways and not regard every attempt to change as something which is a bandwagon which is convenient for them to jump on."