Welsh veto on leaving EU 'worth considering', says Jones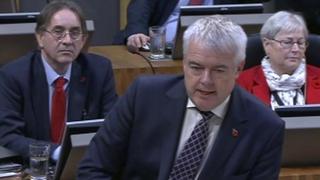 An effective veto for Wales and Scotland over the UK leaving the EU is "worth considering", First Minister Carwyn Jones has said.
Incoming Scottish First Minister Nicola Sturgeon has suggested that any vote to leave the EU should have a majority in all four UK nations to be valid.
The Conservatives have promised a referendum on membership if they win next year's general election.
Mr Jones said the UK should not leave the EU purely based on "English votes".
At First Minister's Questions in the Senedd, the Welsh Labour leader said the SNP proposal was "worth considering".
"I don't think the UK will leave the EU," he said.
"I think given the opinion polling we've seen recently it's unlikely; when people are unsure about something they tend to stick to the status quo."
But Mr Jones warned: "If the UK leaves the EU on the basis of English votes it would trigger a constitutional crisis the likes of which we have not seen."
At last week's Prime Minister's Questions, David Cameron insisted any vote would be decided by a UK-wide majority.
He told MPs: "We are one United Kingdom. There'll be one in/out referendum."