Drink 'cause' of liver deaths doubling in 20 years, minister say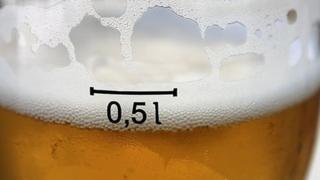 Deaths from chronic liver disease in people aged under 65 have more than doubled in the last 20 years, the Welsh government says.
It warns excessive drinking is still the biggest cause of liver disease.
A draft plan for tackling the problem says minimum pricing for alcohol could result in "immediate and sustained reductions" in alcohol liver disease.
The Welsh government has already proposed a minimum alcohol price of 50p per unit.
It could become law as part of a Public Health Bill for Wales planned for early 2015.
The draft plan for tackling liver disease put forward by ministers says that unlike other major causes of death, deaths from the illness in Wales are on the rise.
The plan - Together for Health - sets out a six-themed plan for the NHS and other organisations to target the disease and promote "liver health" as well as the "timely detection" of the disease and how people can play their role in preventing and managing disease.
It says: "While there have been improvements in mortality from most other chronic diseases, the number of deaths from liver disease has increased in people aged under 65.
A silent killer
•The liver is the body's largest internal organ, providing vital functions including the filter of toxins, such as alcohol, from the blood
•There are many causes of liver disease, but most cases are attributed to alcohol, viral hepatitis or non-alcoholic fatty liver disease
•But because the liver has no pain fibres there are often no signs that damage is happening until disease is far advanced
•Doctors recently unveiled a colour-coded blood test which can reveal the damage caused by excess drinking
"This is related primarily to an increase in alcohol related-problems and an epidemic of obesity in the population.
"As with a number of other health conditions, the way we lead our lives affects the chances we will contract a liver disease.
"Excessive alcohol consumption is still the biggest cause of liver disease in Wales."
In the foreword to the plan, Health Minister Mark Drakeford and his deputy Vaughan Gething said: "The Welsh government will continue to take action to help positively influence people's lifestyles, for example through pursuing public health legislation that makes an important contribution in a number of ways, such as attempting to curb excessive alcohol consumption by introducing a minimum price on units of alcohol.
"At the same time we will continue to help make people aware of these risks in their own lives, encourage individuals to take responsibility for their actions and shaping their own health."
The consultation on the draft plan continues until 6 January 2015.
Last month, Cardiff University experts working on a long-term health study in Wales said people in Wales needed to "wake up" and take responsibility for their health.