Village greens 'threatened' by Planning Bill measures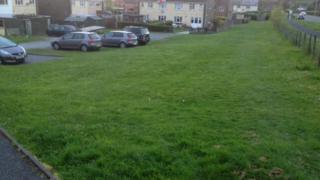 Town and village greens could be destroyed by a "draconian" proposal to change the planning system, campaigners claim.
They say the Welsh government is making it more difficult for communities to stop developers building on them.
Land cannot be built on once it is registered as a town or village green.
The Welsh government said its Planning Bill would stop "vexatious" bids to register greens intended, it claimed, simply to frustrate development.
Applications for village greens must show people have had a right to use the site in question for at least 20 years.
If the bill passes, village greens cannot be registered if there are already plans to build on them.
But campaigners claim communities often find out they need to register greens only when someone applies for permission to build on them.
Jay Kynch, of conservation group the Open Spaces Society, said: "People are heartbroken if they can't register their village green, and to just be pushed aside seems to us to be very wrong.
"We stand for the public enjoyment of open spaces and right of way, and this is part of it."
The group said it was "disappointed" Natural Resources Minister Carl Sargeant had not taken up its proposals to streamline and speed up the registration process "without prejudicing local people or changing the law".
The society called the changes in the bill, which have already happened in England, "draconian" and said they could "destroy" some green spaces.
Housing plea
Steve Jones, chief executive of Tai Ceredigion housing association, says fighting applications to register village greens is a drain on resources.
He faces one such application in Maesglas, Cardigan, where the association's plan to build up to 12 homes has been rejected.
Tai Ceredigion has angered local people who want to protect the site as a children's play area. Their case for a village green application goes to a public hearing in December.
Mr Jones said: "I would welcome the change in the legislation because the current situation has enabled 'nimbies' to use it in the wrong way to stop development of housing when there is a need for housing."
'Fair and transparent'
The Welsh government said that under the current system there was nothing to stop people making "vexatious" applications for village greens.
"Evidence has been received in Wales that, in some cases, applications to register a town or village green have been made as a potential means of frustrating development rather than the purpose of protecting a particular area of land," a spokesperson said.
"The proposals in the Planning Bill only prohibit the registration of new greens where land has gone through, or is going through, the statutory planning process.
"The planning process provides people with the opportunity to put forward any arguments they may have about the use of land as a green in an open, fair and transparent manner."
Some AMs who oppose the changes - including Elin Jones of Plaid Cymru - have said they will try to amend the bill.
It has already been criticised for centralising power and failing to do enough to protect the Welsh language.