Devolve parts of welfare system to Wales, says charity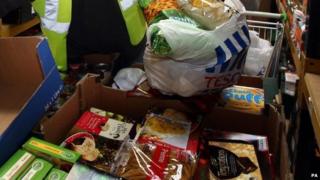 A charity which runs food banks says parts of the welfare system should be devolved to Wales to reduce poverty.
Adrian Curtis from the Trussell Trust told an assembly committee nearly half of referrals in Wales were because of delayed or changed benefits payments.
The Trussell Trust gave food to nearly 80,000 people in Wales 2013/14, more than double the previous year's total.
The UK government said there was "no convincing evidence" welfare reform increased the use of food banks.
The trust said 47% of referrals were due to benefit changes or delays, up from 43.5% in 2012/13, in evidence to the assembly's communities committee on Tuesday.
Mr Curtis told the committee: "When you look at the reasons why people come to our food banks, around half of them were because the welfare system had in some way let them down.
"Either there was a delay in their claim being processed or a sudden change to the level of payments they were receiving.
"Clearly for those people, politicians play an important role in delivering policy that is going to better address those issues and prevent those people coming to our food banks in the first place.
"Those powers currently fall outside the remit of the Welsh government."
Mr Curtis highlighted the example of Scotland, where a cap on discretionary housing payments was devolved so Scottish ministers could set their own cap.
"That has greatly helped our clients because the Scottish government was able to give more money to mitigate the effects of the importance of welfare reforms," he said.
"So we would certainly support the devolution of similar powers where it's going to help our clients."
A Department for Work and Pensions spokesman denied claims benefit changes were driving up the need.
"There remains no convincing evidence of a causal link between welfare reforms and increased use of food banks," he said.
"The reality is the vast majority of benefits are processed on time, with improvements being made year on year.
"And we continue to spend £94bn a year on working age benefits to ensure there is a strong safety net in place."