£1.1bn aid priorities for Wales agreed by EU Commission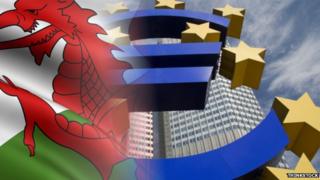 The way Wales will spend £1.1bn in European cash has been given the go-ahead by the EU Commission.
Research and innovation, transport, renewable energy and energy efficiency projects as well as urban development schemes are among the priorities for the aid.
The European Regional Development Fund (ERDF) money is part of £2bn of EU cash Wales will receive from now until 2020.
Ministers said the aim was to deliver "sustainable" growth and jobs.
A further £800m in European Social Fund (ESF) aid is due to be formally approved within the next few weeks after the European Commission "agreed in principle" to it.
Road and rail
Finance Minister Jane Hutt said: "We are the first region in the UK and among the front runners in Europe to have our ERDF programmes approved.
"This announcement marks a significant milestone for further EU funds to be invested to help deliver on our shared goals across government for sustainable economic growth and jobs."
Ministers said the programmes included:
£310m for research and innovation
£198m to boost competitiveness, including through business finance
£439m for 'connectivity and urban development', including £252m for transport - which could support projects including the South Wales Metro and upgrades to the A55 and A40
£154m for renewable energy and energy efficiency