David Cameron says Welsh funding change not 'on horizon'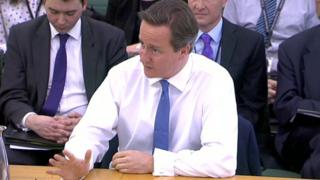 The prime minister has said a change to the way the level of Welsh government funding is set is not "on the horizon".
David Cameron defended the so-called Barnett formula despite claims that it short-changes Wales by £300m a year.
He told the liaison committee of senior MPs there was no "magic formula" for sharing money between the UK nations.
But Mr Cameron said the importance of block grants under the Barnett formula would fall as the Welsh government acquired tax-raising powers.
He was responding to the Monmouth Tory MP David Davies, who chairs the Commons Welsh Affairs committee at Westminster.
Mr Davies said the Barnett formula was "rather out of date" and the issue of funding should be looked at in the light of the Scottish referendum on independence.
He said that the prime minister had previously said reform of the formula would have to wait for the stabilisation of the public finances, which were now more stable.
Smaller grants
Mr Cameron said there was a lot more work to do to eradicate the deficit.
He added: "If we go for this process of devolving tax-raising powers to the Scottish Parliament, the Welsh Assembly, then the importance of Barnett will reduce because obviously these institutions will have smaller block grants and larger tax bases and so the importance of Barnett will be less.
"What I've said is that I don't think reform of Barnett is on the horizon. I said that in 2013 and I stick by that.
"And I always say to, particularly English colleagues but also to Welsh colleagues who complain about the effect of Barnett, is I don't think there's any magic formula here of how you work out distribution between the nations of the United Kingdom."
The three main UK party leaders published a "vow" during the referendum campaign to preserve the Barnett formula, which has helped maintain proportionately higher public spending in Scotland.
A new law currently going through Parliament will give the Welsh government some control over income tax if approved in a referendum.