Smacking ban to be considered by cross-party committee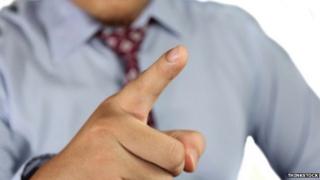 The idea of a ban on smacking children will be investigated by a special committee of assembly members.
Welsh ministers have ruled out removing the "reasonable punishment" defence for those accused of hitting children before the 2016 assembly election.
Ministers said the committee, backed by AMs in a vote on Tuesday evening, would "help encourage public debate".
But Plaid Cymru AM Lindsay Whittle said the committee was not needed and it was a "delaying tactic" by ministers.
Mr Whittle said the law could be changed by amending the Gender-based Violence, Domestic Abuse and Sexual Violence Bill.
He said: "Over the past 12 years the decision to protect children against physical assault in their homes has had overwhelming support in this chamber, so why now another delay?
"Now we have the powers to legislate, why do we need to discuss issues to do with legislation?
"Is this another delaying tactic, to drag the matter on until after the next assembly elections? Oh yes."
'Thorough examination'
Conservative Paul Davies said his party remained "unconvinced" of the need for a new committee, and claimed the work could be done by the Children, Young People and Education Committee instead.
But the Liberal Democrats backed Labour ministers' plans.
Lib Dem AM Aled Roberts said his party was "very anxious to actually try and ensure that this whole argument, this whole debate, moves forward".
Business minister Jane Hutt said the committee would "help encourage that public debate and engagement that we have had in the past" and allow a "thorough examination of the evidence".
She added: "This cross-party committee would, in effect, lead to consideration of how the law might be changed to give further protection to children, with reform on the law on physical punishment of children by parents."