MPs debate Wales in general election rehearsal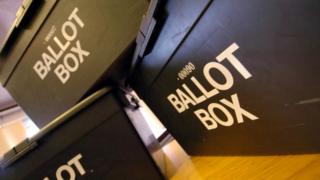 An extraordinary thing happened in the House of Commons yesterday. A debate on Wales wasn't dominated by constitutional issues.
Instead, the debate - on the impact of the UK government's policies on Wales - focused largely on economic and welfare policy.
If you were looking for a taste of next year's general election campaign, then this was it. The governing parties talked up economic good news, and accused opposition parties of talking down the Welsh economy. (One Labour MP in turn accused the Conservatives of talking down the Welsh NHS).
MPs on both sides of the House of Commons rehearsed their campaign slogans. Welsh Secretary Stephen Crabb talked of the government's "long-term economic plan". There were mentions aplenty for "hard-working people".
Mr Crabb used a phrase he is fond of - "banging the drum" - to explain what the secretary of state for Wales does in the devolution age.
His Labour shadow, Owen Smith, mentioned pit closures and the miners' strike. He also gave an insight into the reasons behind the creation of the National Assembly for Wales - not just to make Wales more accountable and deliver bespoke Welsh solutions for Welsh problems. "The unspoken motivation behind that, especially in Wales where the miners strike was so fresh in our memories, was to protect the Welsh people from the prospects of a future Tory government."
Challenged on that by Monmouth Tory MP David Davies, Mr Smith insisted Labour had campaigned for devolution for 100 years. Tory Jonathan Evans, a Tredegar boy, pointed out that Nye Bevan hadn't campaigned for devolution, so Mr Smith offered up the pro-devolution Keir Hardie instead.
If you can't wait until next year to hear the general election campaign, you can read the debate here.
Today, as you might have noticed, the parliamentary focus has very much been on devolution - to Scotland, and what it means for the rest of the UK. Of all the powers likely to be transferred from Westminster, control of electoral law and air passenger duty look more possible options to be devolved to Wales too.
Stephen Crabb said: "It's clearly a really important report - the ink is barely dry so we should avoid making any immediate knee jerk responses to it.
"We've got a clear process in place, set out on a cross-party basis to work towards a St David's Day agreement at the beginning of March next year around the next steps towards devolution in Wales so we don't need to make hasty response to the Smith commission's report."
In the Commons, several Welsh MPs questioned Scottish Secretary Alistair Carmichael. Plaid Cymru's Jonathan Edwards wanted to know why Scotland was getting the power to set all income tax rates and bands while Wales would only be able - after a referendum - to vary tax rates by a small percentage.
"When," asked Mr Edwards, "will Westminster stop treating Wales like a second-class nation?"
Liberal Democrat Mr Carmichael told him: "I thought the only grievance we would get today would be from the Scottish nationalists; I had forgotten we had Plaid Cymru here as well.
"We have always known that for different historical reasons, devolution across the different nations in this country emerges at different paces, which is absolutely right."
You can read the exchanges here. and the views of the Welsh first minister here.