Autumn Statement health cash means extra £65m for Wales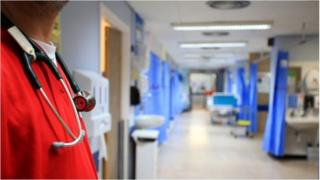 Around £65m to £78m in extra funding will be given to Wales from the UK government's budgets.
Chancellor George Osborne has said there will be an extra £2bn announced in the Autumn Statement for health services across the UK, which includes £1.3bn from departmental underspends.
Wales will receive around 6% from the underspent amount.
However the money is not ringfenced so it does not have to be spent on health by the Welsh government.
The remaining £700m from the £2bn announced is already in the health budget but will be re-prioritised to the front line.
A further £1.1bn spread over four years will see around £50m extra shared between Wales, Scotland and Northern Ireland.
The announcements mean that next year's total budget for health and social services in Wales could be more than £6.6bn.
Mr Osborne will make the statement on Wednesday.
Monmouth Conservative MP David Davies said: "In England, [the extra money] will go on the NHS and I very much hope that the Labour government in the Welsh assembly will also want to spend money on the NHS although from past experience that isn't necessarily going to be the case."
However, Nia Griffith, Labour MP for Llanelli, said: "What we really want to know is how much of the money that the chancellor is announcing now is recycled money, repackaged projects which should have started years and years ago which he keeps announcing and never actually happen."