Blue badge scheme review is announced by Edwina Hart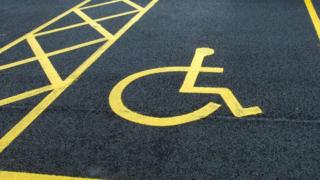 The blue badge disabled parking scheme is to be reviewed following a rise in the number of applications rejected since new regulations were introduced.
Welsh ministers made changes to the system in 2013 to stop it being abused.
But BBC Wales found in November that rejections have more than tripled in three years in some areas.
Transport Minister Edwina Hart conceded there were "issues" with how the scheme was being run and said there would be a "rapid review".
Blue badges are issued to people with mobility problems or disabilities and allow the driver to park on double yellow lines or in special spaces nearer their destination.
Under the 2013 regulations, local authorities were told that GP evidence of people's disabilities was not enough to support the case for a blue badge.
The change has prompted concerns that many in genuine need are being refused a badge.
In a written statement, Mrs Hart said she was "broadening eligibility where appropriate" and that "all applicants for a blue badge should be treated fairly and consistently regardless of which local authority area they live in".
Conceding that "issues remain with implementation" she said officials would "conduct a rapid review of current delivery of the scheme, informed by practice in other parts of the UK".
Mrs Hart said she would announce the review's outcome and the "next steps" in the New Year.