Not-for-profit firm could run Welsh rail services, says Hart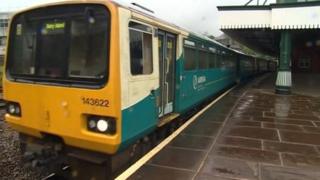 A not-for-profit firm could run Welsh train services from 2018, Transport Minister Edwina Hart has said.
Welsh ministers will decide who runs the Wales and Borders franchise routes around Wales and into parts of England, excluding mainline services to London.
The services are currently run by Arriva Trains Wales, a subsidiary of German rail operator Deutsche Bahn.
Plaid Cymru welcomed the news but Conservatives claimed Mrs Hart was "Marxist".
Devolution of responsibility for the franchise was revealed by Prime Minister David Cameron in November when he confirmed the go-ahead for rail electrification in south Wales.
Mrs Hart confirmed on Friday she was setting up a not-for-profit subsidiary of the Welsh government, initially to advise on electrification, the rail franchise, and plans for a south Wales metro transport network.
She told the assembly's Enterprise and Business Committee on Thursday: "We want to do this as professionally as possible, and we think this is the vehicle that will allow us to do so, and also a cost-efficient way of managing it as well.
"I am determined that when we go to the full issue of the franchise we're prepared for a not-for-dividend company to be established. I think that's popular in terms of people's perceptions."
She added: "Nationalisation of the railways is probably what the public would like, but that gift isn't with me."
'Ideological aversion'
A pledge to look at setting up a not-for-profit company to run the services - along the lines of Dwr Cymru Welsh Water - was included in Welsh minister's programme for government after the 2011 assembly election.
Plaid Cymru transport spokesman Rhun ap Iorwerth said: "The minister was clear that there are pitfalls ahead, but having called for this in the last (assembly) election Plaid Cymru fully supports this option".
Conservatives described Mrs Hart as "Marxist".
Shadow transport minister Byron Davies said "preventing private businesses from running Welsh railways" was "another example of Labour's ideological aversion to the private sector and inability to create wealth and prosperity in the Welsh economy".
A spokesman for Arriva Trains Wales said rail electrification and devolution of the franchise meant there were "exciting times ahead" for the industry.
"Arriva operates in 14 countries in Europe, each with a wide variety of different contracting models and client bodies," he said.
"We are therefore looking forward to the opportunity of working with the Welsh Government to implement their future plans for transport in Wales."
Analysis by Nick Servini, BBC Wales political editor
If the Welsh government goes down this route of a not-for-profit body it will be the only example of it currently happening in the UK.
There are risks for train operating companies which are now borne by the likes of Arriva Trains Wales.
These include unpredictable pay negotiations with powerful unions, the cost of fuel and any unforeseen events.
But the counter argument is that it removes the element of profit in franchises that are heavily subsidised by the taxpayer.
And the franchise process has hit major problems elsewhere in the UK.
The general rule of thumb is that most rail franchises, other than some that provide commuter services into London, are subsidised by government.