Suicide rates three times higher than road accident deaths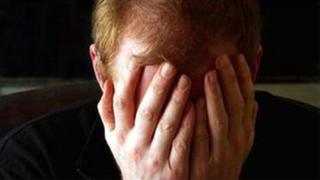 Three times as many people die from suicide than in road accidents in Wales every year, figures have shown.
Up to 350 people take their own life every year and a plan has been launched to reduce that.
The Talk to Me 2 scheme will focus on helping vulnerable groups, such as children, the homeless, prisoners, doctors, nurses and farmers.
The five-year strategy aims to give people "appropriate" responses to personal crises.
Health Minister Mark Drakeford said: "Prevention of suicide and self-harm is a major challenge for us all."
Those considered to be high-risk include bullied children, rough sleepers, prisoners, doctors, nurses and farmers.
"Losing someone through suicide can be particularly traumatic and difficult to cope with; its impacts are psychological, spiritual and economic," Mr Drakeford added.
He said prevention was a major challenge, but no single organisation or government department could tackle the issue alone.
A consultation on the plan closes in March.