Welsh Tories would cut 40% income tax rate, leader says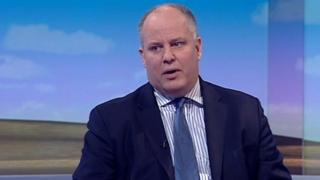 A Conservative Welsh government would cut income tax for people paying the 40% rate but would scrap their free prescriptions, the party's Welsh leader has said.
Andrew RT Davies said cutting the 40% rate by 2p in the pound would cost around £40m.
He told BBC Wales he wanted a "low-tax revolution" to attract entrepreneurs.
Income tax powers could be devolved under the Wales Bill passed last week but only if approved in a referendum.
'Social justice'
Mr Davies told the BBC's Sunday Politics Wales programme that if he had the power he would cut the 40% rate of tax, which currently applies to income between £31,866 and £150,000 a year.
"By and large that 40% tax band is where those entrepreneurs sit," he said.
"We've got to be tax competitive against other parts of the United Kingdom and that's what the Welsh economy can afford to do and that's why I announced it over 18 months ago."
Mr Davies said the tax cut would be paid for by ending universal free prescriptions for 40% taxpayers.
"We spend £600m on free prescriptions at the moment in Wales," he said.
"It is not right that millionaires can walk into Tesco with a prescription and get free paracetamol while cancer patients cannot get the cancer treatment they want."
He added: "That is social justice - that is right to do and it would benefit the economy and it would benefit patients across Wales."